Cold Blood Horses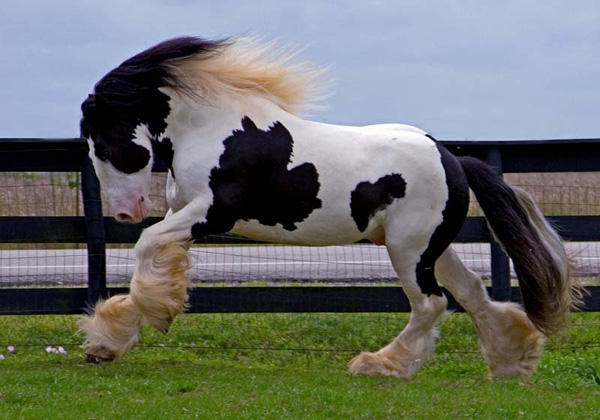 Cold Blood horses are much heavier and slower than the wild and highly-strung
Hot Blood horses
. The term 'Cold Bloods' is usually used to describe draught ('draft' in the USA) horses; that is, large horses that are bred specifically for heavy, tiring labour such as agricultural work. There are a wide variety of magnificent
breeds
that fit into this category of horses, but they are all similar in their strength and quiet, dependable temperaments.
The title 'Cold Blood horses' has absolutely nothing do to with blood; it came about as the majority of Cold Blood horses came from the frosty northern regions of the globe as opposed to the arid desert climates in which most of the Hot Blood horse breeds originated. Although farming for the most part has been made a rather mechanical process, draught horses today are still used on farms, as well as for showing, driving and logging.
Click on the 'read more' links to find out more about the specific breeds of Cold Blood horses.
The Ardennais Horse – The Ardennais horse was originally rather small as far as draught horses go. It was used for not only draught work but for riding as well, unlike many other heavy Cold Blood horses. >>> Read more…
The Ariegeois Horse – The Ariegeois horse is a likely descendant of those horses which were ridden by the Gallic tribesmen according to the documents written by Caesar on the Gallic Wars. If you, like I, have ever indulged in reading the humorous, comic adventures of the heroic Gallic warriors, Asterix and Obelix, you will note that the illustrators have actually taken the care to make the Gallic horses in the comic strips resemble the Ariegeois, although their drawn mounts come in a variety of colours. >>> Read more…
The Belgian Draught Horse – The Belgian Draught horse is a historic breed, closely related to the Ardennais Horse from the French-Belgian border. It is also known by its earlier name, the Brabant, although this usage is not entirely correct. >>> Read more…
The Boulonnais Horse – With its origins to be found in the ages dominated by the Roman Empire, the Boulonnais horse is possibly the most graceful of all the Cold Blood Horses; its name is not as ancient as its history, dating back to the seventeenth century when it was derived from its main region of breeding in north-west France.>>> Read more…
The Breton Horse – The Breton horse is stocky and has rather short legs for its lanky height of 15-16.1hh, but despite this it has a lively trot and seems to enjoy being active; these characteristics link back to the Norfolk Roadster blood which was sprinkled in throughout the breed's history, as well as infusions of other Cold Blood horses like the Boulonnais. >>> Read more…
The Clydesdale Horse – A Scottish breed, the Clydesdale horse comes from the Lanarkshire district, deriving its name from the former title of this region. The very first recorded use of the name 'Clydesdale horse' to describe the breed was at an exhibition in Glasgow, where they were originally used for agriculture, hauling coal and heavy objects. >>> Read more…
The Friesian Horse – The Friesian horse is one of oldest ad most elegant horse breeds of Europe. For centuries it has been used to influence other
breeds such as the Oldenburg of Germany and the Dales and Fell ponies of Great Britain. >>> Read more…
The Italian Heavy Draught Horse – Bearing a remarkable resemblance to the Breton horse, the Italian Heavy Draught horse – known also as the Agricultural
Heavy Horse – originated at Ferrara in the north of the country during the second half of the nineteenth century. >>> Read more…
The Jutland Horse – The Jutland horse can easily be mistaken for the British Suffolk Punch. Except for the gorgeous feathering on the lower part of
the leg, the Jutland and the Suffolk Punch do look incredibly similar. >>> Read more…
The Noriker Horse – The Noriker horse was created a long time ago in the mountain areas of Austria. It is an incredibly attractive
horse, sharing the same 'cocoa and cream' colouring as the Rocky Mountain Horse. >>> Read more…
The Percheron Horse – The Percheron horse originated in La Perche in the south of Normandy. Its ancestors were Arabian horses brought
to Europe by the Moors. >>> Read more…
The Norman Cob Horse – The Norman Cob horse comes from Normandy, where it is still used for light draught work on small farms in La
Manche, Normandy. >>> Read more…
The North Swedish Horse – The North Swedish horse is small, compact and agile, perfectly built for its main employment ? forestry. These
little draught horses often have to work in small places in bad weather on rough terrain. >>> Read more…
The Schleswig Horse – The Schleswig horse – a sturdy, compact animal – comes from the northern-most region of Germany, Schleswig-Holstein. >>> Read more…
The Shire Horse – The Shire horse is descended from a horse of the medieval period called the Great Horse, which was later renamed as the English Black.
>>> Read more…
The South German Horse – The South German horse – a strong and agile creature – is descended from the Austrian Noriker. The Noriker was introduced to
Bavaria in southern Germany towards the end of the nineteenth century. >>> Read more…
The Vladimir Heavy Draught Horse – The Vladimir Heavy Draught Horse – a heavy horse from Vladimir and Ivanovo, to the north-east of Moscow – was significantly
influenced by the Clydesdale. During the early years of the twentieth century, stallions of various
heavy breeds were imported into Russia from Britain and France. >>> Read more…
---